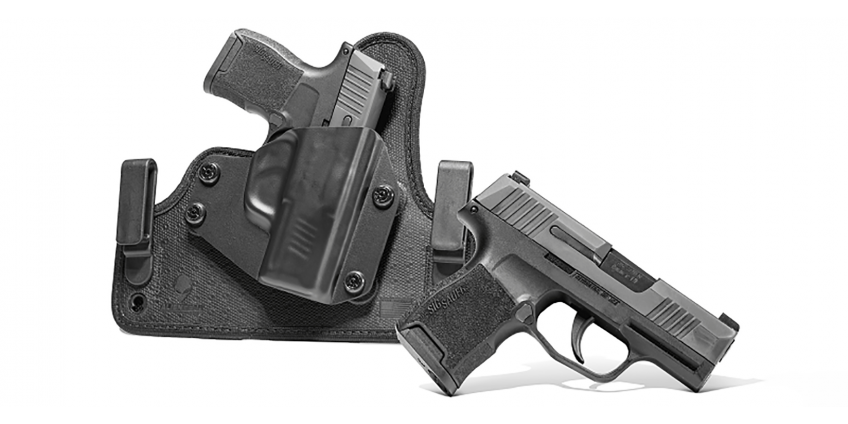 What makes Sig pistols better?
In 1853, 3 gentlemen started a venture into creating a wagon factory in Switzerland. This took quite the turn 7 years later when these men set their minds to creating an advanced, innovative rifle for a contest in which the end results would supply the Swiss Army. Long story short; they won and have been making brilliant, high quality rifles, pistols and more since. Also, in case you were wondering, the 'SIG' in Sig Sauer stands for Schweizerische Industrie-Gesellschaft or translated, the Swiss Industrial Company.
There are tons of pros to owning a Sig pistol, but lets start with one of the most obvious. They are pretty, and fun to look at. And pretty here is relative, seeing how Sigs come in a variety of looks. But my favorite is the classic old-west looking stainless steel 1911 with a wooden grip… Beautiful gun. Sigs look like guns are supposed to look. They look like they were born the way they are- they weren't assembled- only the best materials came together and POOF a beautiful Sig Sauer pistol pops out of the nothingness. Machine marks are virtually undetectable, and altogether Sigs are proud looking guns.
Sig Sauer's heavy all-steel construction give their pistols recoil reduction and higher quality overall. Another plus for those concealed carrying is no external safety- the guns have double action built in to the trigger pull. They have comfortable grips, and allow you to change them out if necessary. Also, a few of their guns allow for extreme customization for those with extra large hands or smaller hands, in order to get your perfect fit of pistol.
It is common, all over the world, for law enforcement to use Sig pistols. You cannot beat their reliability, and accuracy, even from a far off distance.
Some would say a huge downside to Sigs is their price. However, those who use their pistols understand their worth, and the price is actually great value for what you're getting. They have very high quality engineering and machinery; Sig Sauer has basically fine tuned their pistols down to a science.
Best Sig Guns to Own
Here's a list of what we believe are the best Sigs to own along with some details for your benefit.
1. The P229
You know if the US Secret Service, the Federal Air Marshals, and the state police all religiously use a gun, it is no joke. The P229 is exactly that, boasting extreme reliability and accuracy. It features a stainless steel slide that almost guarantees no catching or misfiring, a double action trigger pull, and a convenient size for concealed carry. The gun was designed for less recoil when firing a .40 cartridge and made for more comfortable shooting overall. It comes in 9mm, .40 S&W, and .357 SIG. Average price is about $990
2. The P220
The P220 is a full size, single-stack, single-action pistol. For the longest time the best service pistols could not hold a candle to the P220, it was the best of the best. In fact, it's so expensive because it's so hard to get your hands on one. However, SIG Sauer just announced at the 2016 Shot Show that they will now be put into production in America's factories. It is available in 9mm, .38 Super, 10mm Auto and .45 ACP. Average price runs at $550 used or $1000 new.
3. The P320
The 320 is a polymer framed pistol that is striker-fired and is a more recent model from Sig, coming out in 2014. The cool thing about the 320 is that you can completely change it up and customize it to make it whatever you need it to be. A serialized fire control unit gives the frame the ability to change from compact to full size, and to customize the pistol to your hand size adjust the interchangable black straps. Ammo type is 9mm, .45 ACP, .40 S&W and .357 Sig. Average price is about $570 new.
4. The P226
The 226 is almost the same design as the P220 but is instead made with capacity for double stack magazines with higher capacity. It's full size, and can be 9mm, .357 Sig, .40 ACP and .22 long rifle. Average price is $800 new.
5. The P250
D&C actually reviewed the P250 as an excellent choice for EDC, specifically the subcompact 9mm P250. Its a double action pistol, has an incredibly smooth trigger pull and works great for women or men with smaller hands. It's lightweight but very high quality as per usual. Comes in .357 Sig, .380 ACP, .45 ACP, 40 S&W and 9mm Parabellum. Average price is about $420 new.
Best Pistol Accessories to Add to your Sig
There are so many accessories and add-ons you can get for your Sig, but we've narrowed it down to three we think are important.
1. We're going to start this list with- you guessed it- a concealable IWB holster. We recommend a comfortable holster that will hold up and not break in too much so you can maintain a good draw and holster. We also usually recommend Alien Gear Holsters here, if you can find us a better concealable holster we'd love to hear it!
2. An extra magazine carrier. If you're using a compact Sig or P220, it's important to be prepared. Alien Gear Holster also makes some kick ass IWB concealable mag carriers.
3. We recommend picking up a laser sight for your pistol. What's the harm of it? They have many benefits such as improving accuracy especially if you are in a compromised shooting position, and what would stop an attacker in his/her tracks more than seeing a laser on them?
Is Sig Sauer a Good Concealed Carry Gun?
Most Sig Sauer handguns are the most popular law enforcement and service pistols around the world. If that doesn't tell you something about concealment I don't know what will. They are extremely convenient for concealment and many of them have a compact option available. However, just like we keep reiterating it's very important you have a sturdy, comfortable holster and a gun belt that will support and keep everything in place.
Where to Get a Sig Sauer Pistol
Sig Sauer's website has a handy dandy dealer location map that gives you a list of stores near you that sells their firearms. Also check out online stores with huge varieties like gunsamerica.com, gandermountain.com, and budsgunshop.com. Also, of course, check out your local news for the next gun show and you can get deals on new or used Sigs.
Tips and Advice about Sig Pistols
All-in-all Sig pistols are top notch, good lookin', high quality pistols that are worth the hype and top dollar. We recommend them if you are joining the concealed carry game and want to go all in, or if you want to invest in a gun that will continue to impress and delight you. We think of it this way, instead of buying a crappy gun and needing to replace parts every so often or having to worry about when it won't perform its duty- get yourself a Sig. These guns are made so you will never have to worry about reliability or quality. Make a purchase that you can justify with a Sig Sauer pistol, we guarantee you will never look back and waver on the price you payed in the end.