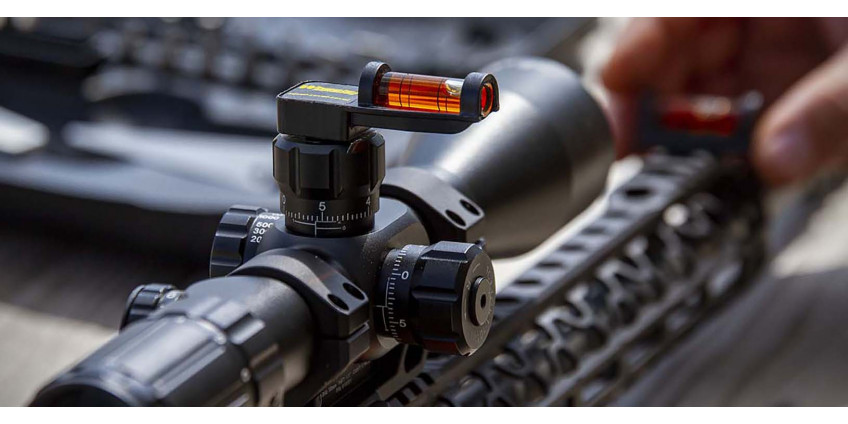 The mount is an essential element of any optical system mounted on a firearm. It allows you to fix the sight on a gun or rifle, making them as accurate and convenient as possible in use. To achieve perfect fixation, you must choose a suitable mount, depending on the weapon's characteristics and the shooter's needs. Further operation of this structural element will require compliance with the primary care rules. Only in this case will the mount remain a reliable basis for the optics used for a long time.
What are scope mounts?
A mount is a device with which sight is fixed on a weapon. This product allows the optic to be mounted correctly and avoids shifting during the shot. In addition, scope mounts make it safer to transport the scope, reducing the chance of accidental damage to the optics. Fastening provides the most rigid fixation. Its base is installed on the seat of the barrel of the weapon, which excludes their displacement relative to each other. Such strength allows you to safely shoot from large-caliber rifles without fear of knocking down the sight.
There are many types of scope mounts. All of them have their characteristics and are suitable for different weapons. Their presence positively affects the accuracy and quality of the shooting. These devices are widely used in military weapons and are also installed on civilian rifles and shotguns.
The sphere of scope mounts application
The popularity of various weapon optics is constantly growing. Along with this, the demand for fasteners is also increasing. These products are in order when performing simple and complex tasks. With their help, gun owners can be confident in the reliability of fixing the optics and its proper operation even in the most extreme conditions.
Application options:
Hunting. Most often, civilians use scope mounts for hunting. In this case, standard fixtures are selected that are suitable for existing models of weapons and optics. They securely fix sights and help the hunter increase shooting accuracy.
Fight against criminals and terrorists. Police and intelligence agencies also use mounts for optical sights. With their help, any shifts in the optics affecting shooting accuracy are eliminated. The latter will be essential in the case of neutralizing a particularly dangerous criminal or during counter-terrorist operations.
Protection of objects of high secrecy. A simple guard can guard not everything with his old gun. In some cases, the territory's safety is carried out using optical sights connected to weapons using unique mounts. This happens when only a specific category of people is allowed to enter the fence. Most often, this happens at military facilities and places where securities are stored (a bank or other financial institution) and expensive materials or goods (for example, enterprises that produce weapons). In addition, scope mounts are used by guards in prisons.
Military operations. Snipers are always in demand for military personnel. They are often involved in military operations of varying degrees of complexity. In all cases, these people are accompanied by rifles with optics, carried out using unique mounts. Also, scope mounts are actively used during military exercises at the training ground.
Self-defense. In our world, people are divided into poor and rich. The latter often have expensive property, which is quite difficult to protect from the encroachments of thieves. In this case, they are helped by a weapon with a scope. Optics are often mounted using scope mounts, which simplifies the process of its operation as much as possible (displacements after shots are excluded) and storage at home.
Sports competitions. Optics are part of the equipment of professional athletes involved in sports shooting. Accuracy is critical since it depends on the distribution of points and places in the standings. To increase this indicator, athletes use scope mounts. They make it possible to merge the optics with the rifle and exclude its various shifts relative to the weapon's barrel. The latter entails a failure of the sight with all the negative consequences for the competitor.
Entertaining shooting. Not only hunters, military, and athletes like to shoot. This activity is also interesting for ordinary people who want to feel like superheroes for at least a few minutes. To meet their needs, recreational shootings and various games with a military slant (for example, paintball) are organized. Rifles with optics and their indispensable companion, scope mounts, can be used in all these cases.
Popular types of scope mounts
The variety of weapons and sights forces manufacturers to develop many types of mounts. They all have characteristic features, as well as positive and negative qualities. A large selection allows you to find the optimal model for each specific case.
Commonly used types:
One piece. This mount is considered the simplest. It is easily connected to different types of rifles and does not require additional adjustment. Therefore it is used mainly by civilians. The mount design is one piece. This simplifies the maintenance process and minimizes the number of inspections for defects. One piece also has a significant drawback - a lot of weight. Because of it, the weapon becomes heavier, which complicates the process of shooting a little.
Weaver. Another reasonably simple mount is popular with rifle owners. It is available in two versions. The first provides for the manufacture of a single product, and the second - fasteners from 2 identical, in size and shape, halves. The latter has small holes for pins designed to fix the effect on the weapon. The downside of the weaver is the year of its release. This mount was made long ago, so it does not fit many modern rifle models. At the same time, obsolete weapons are an ideal option.
Rings. Today, such a mount is used everywhere. It is perfect for different weapons that can shoot at distant objects. The product stands out from the background of others with its minimal dimensions. It is also lightweight and does not weigh down the weapon. Another advantage of using rings is the ability to save money since fasteners of this type are always moderately priced. An additional trump card of such a product is its durability even in the case of daily use. There are practically no negative points in the process of using rings. The only thing that specialists single out is the installation's complexity, which requires specially trained people to be involved in the work.
Dovetail. If there is no desire to engage in fastening installation for a long time or invite specialists, this product is most often chosen. It has a simple design and is mounted on the weapon in a matter of minutes. In addition, the dovetail is valued for its reliability and long service life. All this makes this device a good option for beginner shooters. Among the negative qualities, only relatively large dimensions are distinguished.
Integral. This option is only suitable for specific models of weapons. Because of this, it is not super popular and is rarely used by shooters. Despite this shortcoming, the integral is considered a relatively simple and well-functioning mount. It easily connects with weapons and performs its duties for an extended period.
Picatinny. Products of this type are the most versatile. They are suitable for different weapons models, which maximizes their use scope. Picatinny has a simple but reliable design. Thanks to these qualities, the mount is actively used by military snipers.
Leupold. For some rifle models, this mount will be the best choice. It is a system of rings that fix the front of the optics. At the same time, its back part remains movable. With the help of special screws, changing its position allows you to adjust the optimal placement of the sight on the weapon. Professional snipers predominantly use Leupold. This is due to the complexity of adjustment and maintenance problems.
Quick detach. This reliable and efficient mount is suitable for various types of weapons. It has a unique design, which is quickly mounted and dismantled. The high speed of this work makes quick detachment an excellent choice for military personnel.
How to choose and buy scope mounts?
Choosing scope mounts is problematic for both a beginner and a professional. In this case, you need to take into account many nuances that will affect the final result and consider the recommendations of experts. This combination will allow you to avoid most mistakes and make the right decision.
Selection Recommendations:
The best option would be to buy a mount designed for your existing weapon. In this case, there will be no problems with the installation and operation of the optics. In this regard, check the selected model for compliance with the weapon before placing an order. If it is not possible to perform this work, then universal devices can also be used to mount the sight. They will not give such a result as "native" models but will temporarily allow you to use optics.
Each sight has its dimensions and weight. These parameters must be taken into account when purchasing scope mounts. If this is not done, then the acquired model may collapse under the weight of the optics or not correspond to its length. To avoid this situation, you should carefully study the characteristics of the sight and consult with sellers.
Many firms that produce scope mounts divide their products according to criteria such as usage time. Thanks to this, mounts for day and night optics appear on sale. In this regard, before buying a product, be sure to determine the site's priority operating time.
When choosing mounts, carefully evaluate your financial capabilities. With insufficient funds, choose budget models that are not distinguished by reliability and durability but can be a good option in the occasional use of optics. Buy expensive products in case of frequent use of sights. This will avoid various problems after a few weeks of operation.
There are standard and quick-release models on sale. The sights are mounted and dismantled using various tools in the first case. In this case, the second option will make it possible to remove the optics in a few seconds and attach them again. Standard models often have a low cost and are available to everyone. Quick-release products are usually more expensive and unsuitable for every case.
The manufacturing process of scope mounts is complex. During its implementation, manufacturers use various materials and their combinations. In this case, fasteners are often made of aluminum alloy and steel. In the first case, the buyer will receive the lightest and most durable product, and in the second - reliable and durable. The choice of one of the options depends solely on the preferences of the weapon's owner with an optical sight.
The more popular the brand, the better the quality. This rule also applies to scope mounts. Models of well-known companies are manufactured using modern technologies and carefully checked for strength and other parameters. This affects their cost but provides the desired reliability and long service life.
A lot of helpful information can be found in customer reviews. Therefore, before choosing a mount, be sure to study them. The best option would be to buy products with a minimum of negative and a sufficient number of positive reviews.
Maintenance of scope mounts
Maintaining products such as scope mounts is a relatively simple task. Despite this, you must approach it as responsibly as possible and consider several important rules. In this case, it will be possible to perform all the steps correctly and avoid damage to the fastener. If you do not serve them at all, then such a rash act will lead to rapid wear of the product with all the ensuing negative consequences.
Nuances of the service process:
For the mount to effectively cope with its tasks over a long period, it is necessary to conduct a visual inspection of it regularly. This must be done after each shooting cycle in which an optical sight was used. This process involves searching for any defects on the product's surface. Among them, there may be chips, cracks, or scuffs. Identifying them at the initial stage of formation makes it possible to replace or repair them, if possible, promptly.
In most cases, weapons with optics are used in open areas. In this regard, fasteners are affected by various environmental factors. The result is surface contamination with fine dust particles and water droplets on the product (during rain, snow, and fog). To avoid negative consequences from such exposure, you need to care for scope mounts regularly. Remove dust particles with a special brush or any similar device with soft bristles. It will not harm the product and will not leave scratches on it. To get rid of water, it is advisable to use a napkin. It quickly absorbs moisture and leaves no residue on the surface. You can also clean with a piece of a soft cloth. It will be able to remove most of the dust and absorb water.
To study the state of scope mounts, you must periodically remove them from the weapon. This must be done as carefully as possible so as not to damage the product. The best option would be to carry out such work with a specialist. However, in its absence, dismantling and verification can be done independently. The frequency of this procedure depends on the frequency of use of the optics. With frequent use, it is necessary to remove the mount once every 1-2 months. If it is rarely used, then one check every six months will be enough.
Manufacturers of scope mounts often list maintenance guidelines for their products. They must be taken into account to care for the purchased products and avoid various problems properly. Most often, the recommendations are standard and the same for all models. However, in some cases, there are still differences that everyone should be aware of.
Scope mounts - F.A.Q.
How to check the quality of scope mounts?
When buying a mount, check its surface for any defects. It is also worth carefully studying the general condition of the product. If you find any negative, we recommend that you refuse to purchase.
What is the life span of the products?
Almost all scope mounts produced today are robust, reliable, and durable. Manufacturers often indicate a minimum service life during which they guarantee the correct product operation. However, with proper maintenance and careful use, the stated figure can be safely multiplied by 2.
Products from what materials are better to buy?
Experts recommend purchasing fasteners made of steel and aluminum alloy. Both materials have sufficient strength and can maintain their characteristics over a long period. Steel mounts are better suited for large-caliber weapons, and aluminum mounts are better for all other models.
Which bindings are suitable for beginners?
For those who are just starting to use gun optics, you should buy mounts that are easy to install and do not require special care. In addition, an essential factor for beginners will be the reliability of products and their low weight. Compliance with all of the above will eliminate any negative aspects during the operation of the sights.
Can universal models be used?
Universal mounts are used quite often. They are suitable for non-standard combinations of weapons and sights, for which it is impossible to find original models. However, installing mounts explicitly designed for a particular gun is better if possible. In this case, avoiding various negative aspects affecting the user's comfort during shooting will be possible.
How do we increase the service life of fasteners?
Scope mounts will do their job for a long time only if all operating rules are followed, and regular maintenance is carried out. The latter provides for the need to clean products from contaminants, dust particles, and water drops. In addition, using mounts with suitable optics and weapons positively affects the service life.
How do you distinguish an original product from a fake?
Scope mounts are rarely faked, but sometimes they do. To avoid purchasing such a model, you must carefully study the packaging and the papers attached to it. Also, the proof of authenticity will be the presence of an official guarantee from the manufacturer.
Products of which manufacturers are better?
Many companies make scope mounts. However, not all of them offer customers truly high-quality products. In this regard, it is recommended to choose products of well-known brands. It can meet the user's needs and save him a long time from the market to re-purchase the mount.
How good are expensive bindings?
On sale, you can find dozens of models from different price categories. The most expensive of them differ from the cheap ones in the quality of the material, reliability, and durability. Before sale, such products are checked for compliance with various criteria, which excludes defective products from entering the production batch.
Is it safe to use scope mounts?
All fasteners produced in our time are made from materials safe for humans. Products are also tested for various other indicators, making them safe for the environment. In addition, scope mounts do not emit harmful substances, vapors, or radiation.
No matter how high-quality and expensive the sight is, if it is installed incorrectly, it will not make the weapon more accurate. On the contrary, its operation will become a real problem for the shooter. To prevent this, you must use suitable fasteners and choose them following all essential criteria. Only in this case will it be possible to achieve an ideal fusion of optics with the weapon and increase the accuracy of the shots.