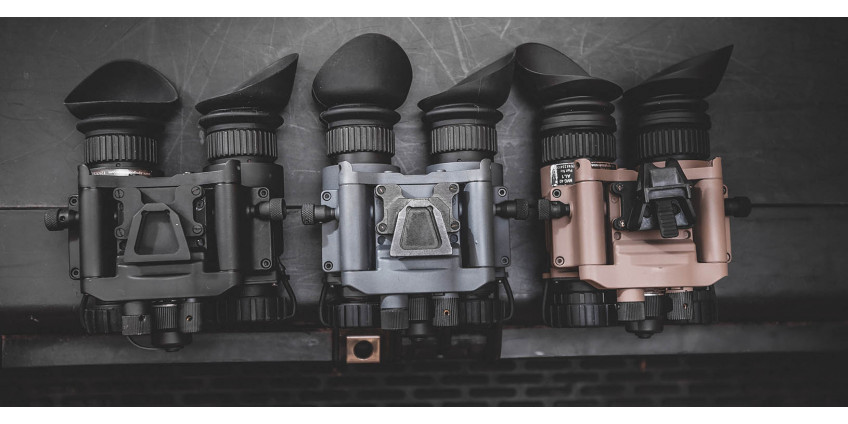 Binoculars that support thermal imaging technology are specific devices used primarily by professionals. With their help, representatives of various professions perform essential work in industrial enterprises and during search and rescue operations. Also, this optics is actively exploited by soldiers, security guards, and scientists. In most cases, these devices are expensive. However, even among them, you can find good, from a financial point of view, options that will satisfy the needs of a specialist of any profile.
AGM Explorator TB50-384
Explorator TB50-384 is the leader among affordable devices for professionals. These thermal imaging binoculars from AGM meet all modern quality criteria and allow you to observe even without light. The outer part of the device is made of high-quality aluminum alloy. It has a sufficient margin of safety and has a relatively small weight. In addition, the case is reliably protected from moisture, allowing equipment to be used in any weather conditions.
The Explorator TB50-384 is simple and easy to use. At the same time, he offers the user ten palettes for displaying pictures, each designed for a particular case. This feature makes the device versatile and suitable for any environmental conditions. Among other pleasant moments, users note the ease of attaching to a tripod. This option frees your hands, enabling you to observe and perform other work simultaneously.
The binoculars use two standard lithium batteries as a power source. They provide long-term autonomy and allow the use of optics away from energy sources. In addition to this, the Explorator TB50-384 has a connector for connecting an external power supply. With it, you can maximize the period of continuous use of the device.
Advantages:
application in the production of quality materials;
hull strength;
minimum weight;
possibility of mounting on a tripod;
Ease of control;
an extended period of work without recharging;
connector for connecting an external power supply;
virtually silent calibration (in manual and automatic mode);
durability.
Flaws:
Pulsar Trionyx Multispectral Fusion
For real professionals in their field, Trionyx Multispectral Fusion is perfect. This model is universal, as it can be used to perform work of any degree of complexity. At the same time, it remains pretty inexpensive, allowing the user to save some money on purchasing optics.
The device combines night vision and thermal imaging technologies well. This combination maximizes the owner's capabilities and allows him to see all the surrounding objects in the dark. In addition, access to a considerable increase in the image is opened, enabling you to consider all the details of the object of interest. Among the characteristics of the model, it is worth highlighting a wide viewing angle and an extensive detection range. All this positively affects the user's feelings and allows him to perform almost any task.
Trionyx Multispectral Fusion also has many valuable features. These include video recording, Wi-Fi support, and compatibility with various modern gadgets on the most popular platforms. The binoculars use an external rechargeable battery as a power source, the energy reserve of which is enough for 6 hours of continuous optics operation.
Advantages:
adequate cost;
universality;
many useful options;
excellent set of characteristics;
Ease of use;
neat appearance;
compact size.
Flaws:
There is no possibility of fixation on a tripod or the user's head.
Luna Optics D-55 Genesis Dominus
These binoculars have excellent technical characteristics, making them ideal for the professional. It stands out against the general background with its maximum detection range, which is more than 1600 meters. This feature makes it possible to observe any objects from a great distance. In addition, the device allows you to magnify the image up to 14 times and view all the details of the object of interest without approaching it.
The binoculars have a standard design. At the same time, the manufacturer also placed a laser rangefinder in it. Its capabilities are enough to determine the approximate distance to a person, animal, or inanimate object more than a kilometer away from the user. There is a device and a lot of built-in memory. Its presence allows you to record long videos and save them without additional equipment. Also, owners of optics can conduct online broadcasts (via Wi-Fi).
Before buying such binoculars, do not forget about the shortcomings. The main one is the short period of work without recharging. Under various operating conditions, it is 2-3 hours. Also, the disadvantages include slightly increased compared to other models, dimensions, and weight.
Advantages:
maximum detection range;
built-in rangefinder;
a large amount of memory;
the presence of a Wi-Fi module;
attractive appearance;
ease of use;
reliable protection against moisture and dust;
durability.
Flaws:
slightly increased size and weight;
a short period of work without recharging.
Pulsar Accolade 2 LRF XP50 Pro
These professional binoculars, which support thermal imaging technology, combine several devices in one body simultaneously. In addition to standard night vision, he can create a thermal image and measure the distance to an object using a laser range finder (capable of measuring the distance to objects located 1 kilometer from the user). All this makes the Accolade 2 LRF XP50 Pro versatile and valuable in various fields of activity.
The device boasts excellent performance. Among them, the detection range of 1.8 kilometers, 16 GB of internal memory, and 13 hours of battery life stand out. Also, the owner of such optics has access to zoom, with which you can examine the object of interest in more detail.
They have not deprived Accolade 2 LRF XP50 Pro and valuable features. The most popular of them include taking pictures and recording videos. The resulting media files are stored in the device's memory, so the user does not need to purchase any additional accessories (for example, memory cards). An excellent addition will be the presence of a battery in the kit, which charges quickly and retains its charge well. It is best to use a special charger to replenish its energy reserves. An alternative would be to connect to various gadgets via a USB port.
Advantages:
universality;
a lot of built-in memory;
excellent operational characteristics;
an extended period of work without recharging;
access to taking pictures and recording video;
neat appearance;
efficiency in all weather conditions.
Flaws:
not the most durable case.
FLIR BHS-X Command
This binocular is one of the devices intended for professional use. When used correctly, it will be helpful in production and during various works in open areas. This model is surprising with its unique designs. It provides interocular adjustment, which allows you to adapt the optics for each specific user. In addition, it should be noted that the case's water resistance enables the use of binoculars even in difficult weather conditions.
BHS-X Command creates a good quality image. This is facilitated by high resolution, digital zoom, and an extensive detection range. This combination allows the owner of the optics to have a good look at the object of interest and get a lot of information. Another essential advantage of binoculars is a large number of options available. Among them, the ability to record video and save it to a memory card installed in a particular slot stands out. You can also take pictures using the BHS-X Command. The device uses four batteries included in the kit as a power source. Their energy is enough for 4-5 hours of active operation of the optics. The only drawback of this model, users, and experts call weight. It is about 1 kilogram, which, during prolonged observation, creates a specific load on the user's hand and leads to discomfort.
Advantages:
wide range of applications;
interocular adjustment;
possibility of use in extreme conditions;
high image quality;
video recording and snapshots;
relatively low energy consumption;
stylish design;
durable case.
Flaws:
Moumi 8x52 Thermal
For professionals, the Moumi 8x52 Thermal is a good, relatively inexpensive option. This binocular has excellent performance to meet the needs of most users. Important parameters include a 1-kilometer detection range, 8x zoom, and high resolution.
The device has a standard design, supplemented by a compass. Thanks to this feature, users can not only view distant objects in the dark but also determine their approximate location. Another essential characteristic of the model is the ability to choose a color palette. This allows you to adapt the optics to the existing conditions and choose the most suitable option for displaying data.
Moumi 8x52 Thermal, like many other binoculars, can record video. At the same time, unlike most competitors, it does it with Full HD resolution and 60 frames per second. The created media files are automatically saved to a memory card installed in a specially designed slot.
The main drawback of the binoculars is that they do not work on batteries but 4 AA batteries. Their presence increases the weight of the device, creating discomfort during long-term observation of the surrounding area. Another disadvantage is the rapid consumption of energy. Because of this, the user will have to change the batteries every 3 hours.
Advantages:
affordable price;
a good set of characteristics;
the presence of a built-in compass;
the ability to choose a color palette;
Full HD video recording at 60 fps.
Flaws:
the considerable weight of a design;
fast battery consumption.
Pulsar Merger LRF
These portable binoculars will be a good helper for professionals in various fields. It provides excellent visibility at night and allows you to view people, animals, and objects through vegetation and smoke. It is also effective in bad weather conditions when visibility with the naked eye does not exceed a few meters (for example, in fog, snow, or rain). In addition, the optics are not afraid of very low or high temperatures, making them available for use in regions with hot and cold climates.
Merger LRF is compact and lightweight. According to these two indicators, it is one of the leaders among devices designed for professionals. The optics body is made of durable materials that can withstand minor mechanical stress. Also, this part of the structure is reliably protected from moisture, adversely affecting any equipment's operation. Among other positive aspects, it is worth highlighting the convenient location of the control panel. This simplifies adjusting the optics and adapting them to changing environmental conditions. A bonus for owners of Merger LRF will be a long period of work without recharging. If necessary, it can be increased by using external power supplies. The only significant drawback, experts, call not the broadest functionality.
Advantages:
ergonomic design;
portability;
possibility of operation in extreme conditions;
reliable protection against water influence;
convenient management;
ease of setup;
long battery life;
possibility of using external power sources.
Flaws:
not the most comprehensive functionality.
X-Vision XANB50
These relatively inexpensive binoculars are suitable for professional use. This model has sufficient compactness, which makes it easy to transport and carry in your pocket. The small size entails a reduction in weight, which positively affects the user's feelings during long-term observation. It receives many good reviews from customers and is subject to minimal criticism from experts.
The XANB50 does the job perfectly. It is effective even in the absence of lighting and performs well in adverse weather conditions. The latter became possible due to the high-quality sealing of the case, which does not allow water and small dust particles to enter.
The binoculars are enough to take high-quality pictures and create videos in good resolution. In this case, to save the received files, you must use a memory card, which must be purchased separately. Among other features of the model, it is worth highlighting the presence of a zoom (digital - 2x, optical - 3x). It will allow you to look closely at objects of interest without physically approaching them. A pleasant bonus for buyers will be the durability of the device, confirmed by a long-term warranty from the manufacturer.
Advantages:
a lot of positive feedback;
good price;
efficiency under any weather conditions;
case tightness;
availability of optical and digital zoom;
the function of taking pictures and recording video;
attractive appearance;
long service life.
Flaws:
The need to use a memory card is not included in the kit.
Most thermal imaging devices sold are expensive and not accessible to everyone. Binoculars are no exception. These devices are popular with representatives of various professions performing hard and responsible work. At the same time, there are cheaper options on sale that are suitable for professionals. Such optics are practically not inferior in characteristics to more expensive models, and their purchase will not be a big problem for a company, enterprise, or government agency.