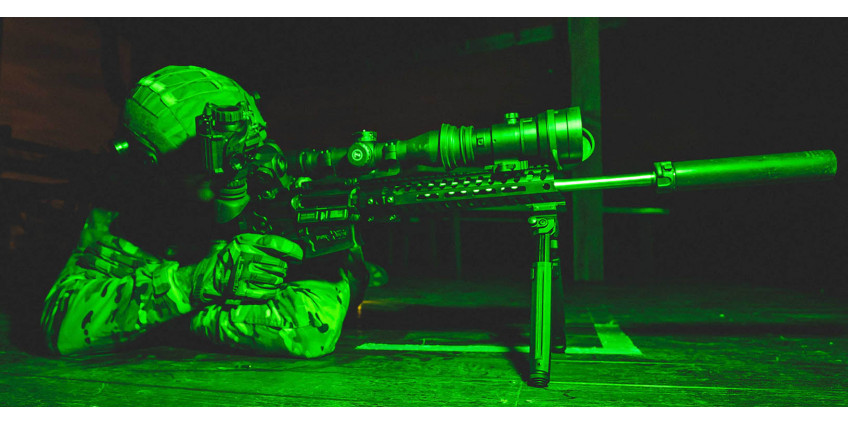 Various sights used in the dark are indispensable devices with which it is possible to conduct accurate shooting in minimal light. Army units and civilians actively use such optics. Some use it to perform various combat missions, while others use it for hunting animals. For the sight to do its job perfectly, it is necessary to find the optimal model. The task becomes challenging if the optics are selected for a newbie.
AGM Wolverine-4 NW2
This device from the famous company AGM is the best among models designed for beginners. It combines excellent quality and relatively low cost, a rarity in our time. This model differs in exemplary ergonomics and is made of modern materials. Its body is made of a special aviation alloy, which is not afraid of external factors and reliably protects internal parts from damage. Most often, such a sight complements the hunter's equipment. It makes it possible even in low light to see the target and not lose sight of it until the shot is fired. Best of all, the device shows itself in cases where the target is not too far removed from the hunter. At the same time, it remains pretty effective even at long distances.
Wolverine-4 NW2 is very simple and easy to use. It is distinguished by its low weight, which does not overload the weapon and does not create discomfort for the user. Also, among the model's advantages, experts note the presence of a 4x magnification, an illuminated grid that can adjust the brightness, and a standard mount. An additional benefit of the device is its long autonomy. This allows novice hunters to use the sight continuously for 50 hours.
Advantages:
high-quality assembly;
relatively low cost;
use of quality materials in production;
efficiency in poor lighting;
many useful additions;
long autonomy.
Flaws:
Bering Optics BE16350 Trifecta
This device is one of the top in its class. It will be a good helper for novice hunters, as it is one of the most straightforward and convenient. This model is often used when hunting small and large animals from a short distance. This guarantees a relatively short range, which is less than 300 meters.
The outer part of the device is made of aluminum alloy used in aviation. It is characterized by low weight and good strength, which positively affects the user experience. Among other design features, it is worth noting a relatively large diameter of the exit pupil and the use of a standard method of mounting optics on the Weaver bar. The BE16350 Trifecta is a reasonably practical scope. It provides novice hunters with a clear image to distinguish all the nuances of the object and choose a good point for a shot. The user receives such quality even in harsh operating conditions of the optics (for example, with a minimum of natural light, in bad weather conditions, etc.).
In addition to inefficiency at long distances, the sight has another drawback. It consists of the minimum number of additional functions, which narrows the user's capabilities. However, this shortcoming entails a decrease in the cost of the device, which is essential for most beginners.
Advantages:
good price;
quality materials;
excellent assembly;
ease of use;
high quality of the created image;
efficiency under any lighting conditions;
ease of fastening;
compatibility with many popular types of weapons.
Flaws:
inefficiency over long distances;
the minimum number of additional functions.
Sightmark Photon RT
This optical sight, designed for night hunting, is a good option for beginners. It has a low cost, thanks to which it becomes available to everyone. This model is easy to use. It allows even people without experience to quickly understand all the nuances and features of management.
Photon RT does not impress users with its features. At the same time, its capabilities are thoroughly enough for a novice hunter. It is especially worth highlighting a good resolution and an expanded field of view. Despite the low cost, the device has a video recording function. It is a rarity for the minimum price segment and is found in only a few models. Another essential feature users consider it is the presence of 8 GB of internal memory, which is enough to create a video report about their nightly adventures.
The main disadvantage of the sight is its small autonomy. After 3-4 hours, the owner will have to install new batteries or connect an external power source.
Advantages:
low cost;
Ease of control;
video recording function;
a large amount of built-in memory;
efficiency in case of lack of light;
small size and weight.
Flaws:
fast battery consumption.
Pulsar Digisight Ultra N450 LRF
This device from Pulsar will be a real helper for a novice hunter. It has excellent characteristics and many functions that will come in handy in a given situation. The optics are manufactured following all quality requirements. In its production, modern materials are used, which have sufficient strength and low weight. The outer part is reliably protected from any influences, which allows the sight to be used in adverse conditions. In addition, this structural element can withstand some mechanical stress.
The Digisight Ultra N450 LRF is complemented by a laser rangefinder. With its help, it is possible to determine the approximate distance to the animal and adjust the settings of the sight. An important feature is an access to the use of optics on almost any weapon. Such versatility makes it popular and in-demand among hunters with varying degrees of professionalism. Among the positive qualities also include a long period of battery life. This makes it possible to safely aim and not be afraid to turn off the device at the wrong time. The only downside buyers cite is that it's overpriced compared to other scopes suitable for a newbie.
Advantages:
excellent operational characteristics;
many options;
the presence of a laser rangefinder;
versatility in terms of combination with weapons;
hull strength;
excellent assembly;
stylish design.
Flaws:
Night Owl Optics NightShot
This simple NV scope would be an excellent choice for a newbie. It is suitable for short to medium-range hunting and long ambush hunting. This model is sold at a reasonable price, which will appeal to even people with minimal financial capabilities. Low cost affects the functionality of the device. NightShot has quite a limited range, and it has primarily basic options. The same should be said about the characteristics of the model. Despite all of the above, the sight copes with its task and helps the novice hunter get his first trophy.
The device is the leader of its class in terms of weight. This has become available due to the compactness and the presence of a plastic case. The latter is not very durable, but it can withstand minor shocks, unlike most of these devices. Among other nuances of the design, the presence of protection against dust and moisture is distinguished. It turns the optics into a weather-resistant structure and increases its service life.
The main disadvantage of NightShot is the rapid consumption of energy. In this regard, the user will have to change the batteries every 3-4 hours and spend a lot of money on their purchase.
Advantages:
affordable price;
compact size;
minimum weight;
durability;
the simplicity of leaving;
protection against dust and moisture.
Flaws:
plastic case;
limited functionality.
Yukon Sightline N455S
This sight is often used while hunting animals at night. It combines good quality and reasonable price, making it suitable for inexperienced users. This model differs in exemplary ergonomics and has a compact size. The latter became possible due to the absence of optional elements (for example, a Wi-Fi module). All this simplifies the operation process and allows you to carry the device in a backpack, bag, or pocket for a long time.
Despite the relatively low cost, Sightline N455S provides the user with a good picture. With its help, it is possible to determine the type of animal and find the optimal place for a shot. Also, experts highlight the automatic adjustment of the device to optimal parameters due to changes in the intensity of natural or artificial lighting. This process takes about a second, so it does not create additional discomfort for users.
The device can be used under any conditions. It is reliably protected from moisture, so it is not afraid of rain, snow, and other types of precipitation. The Sightline N455S also easily withstands sudden temperature changes and is suitable for use in regions with cold and hot climates.
Advantages:
compact size;
minimum weight;
simple management;
acceptable cost;
good build quality;
many useful options;
possibility of use under adverse weather conditions.
Flaws:
not suitable for long distances.
FireField FF16001 NVRS
An affordable scope for beginners is the FF16001 NVRS. It has a low cost, which is essential for people just starting to get acquainted with such optics. The device has an attractive appearance. Its body is made of durable but relatively light material, which positively affects the overall weight of the structure.
FF16001 NVRS has basic features. Among them, it is worth highlighting the expanded field of view and the possibility of using the zoom. An important feature is the presence of a wide range of diopter adjustments. It allows you to adjust the technique to the visual acuity of each user, regardless of the degree of myopia or hyperopia. Among other positive aspects, buyers note the adjustment of the brightness of the grid backlight, as well as the ease of installation on different models of weapons.
The sight also has significant drawbacks. The most notable is the low resolution and operation only at just over 100 meters from the object. This limits the user's capabilities, so this optics is most often used to get acquainted with the nuances of the operation of such devices.
Advantages:
affordable price;
beautiful appearance;
minimum weight of the structure;
extended field of view;
the presence of diopter adjustment;
changing the brightness of the grid illumination;
ease of installation on many models of weapons.
Flaws:
small resolution;
use at a distance of up to 100 meters.
Sightmark Photon XT
This NV hunting device will be valuable equipment for a beginner. The device is solid and durable, as it has a body that can withstand substantial impacts and falls from a human height. The model attracts attention with its compactness and an excellent set of characteristics. Among the latter, a 6.5-fold increase, a detection range of 250 meters, and a field of view extended to 18 ° standout.
Photon XT cannot be classified as a budget one. At the same time, its cost is lower than that of models with similar characteristics. Also, it is worth noting a lot of functions that will be useful even to a professional hunter. An important feature is considered its efficiency in terms of energy consumption. Thanks to this, the charge of two batteries will be enough for 5 hours of active use of optics. An additional advantage will be the choice of the color of the grid illumination, which will make it possible to select the best option for each case.
The device has a minimum of shortcomings. The main one is the presence of a more modern version, which is easier to find on sale than Photon XT.
Advantages:
solid construction;
reliability and durability;
adequate cost;
a large number of useful functions;
minimum battery power consumption;
the ability to change the color of the grid illumination.
Flaws:
difficult to find on sale.
Novice hunters can also actively use various night optics, just like professionals. At the same time, they need to find a suitable model that will be as easy to use as possible and no less effective than more advanced devices. If everything is done correctly, the chances of successfully overestimating the hunt will increase several times, and you can enjoy this process.