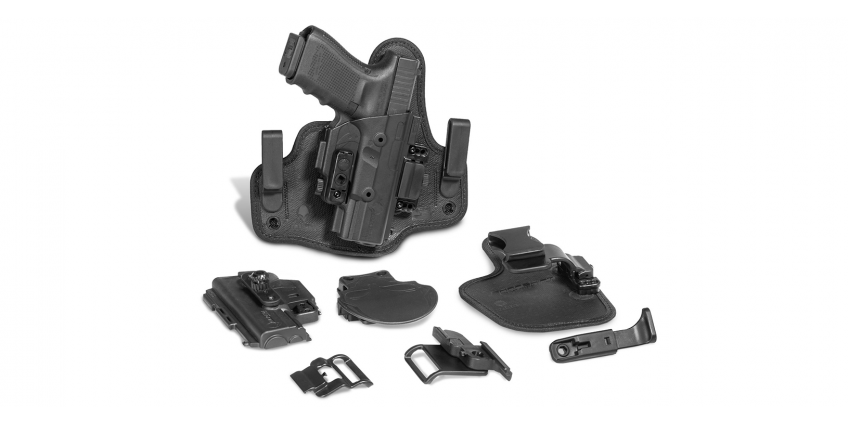 The ShapeShift Starter Kit
Alien Gear Holsters has made some pretty great products. I currently own the Cloak Mod OWB Holster and the IWB 3.0 Cloak Tuck, and they are my go-to holsters on the daily, depending on what I'm doing.
I used to own one of those leather magnetic holsters that I got from a booth at our local fair, but everything changes when you become a parent, and I didn't like how the trigger of my 9mm S&W would peek out of the top, not entirely covered. My firearm also had a bit too much room when holstered, it would actually bump and wiggle around which made me nervous when I carried.
So when I decided to do a google search for IWB holsters, and stumbled across Alien Gear Holsters, I did some research as saw they have a lot of good reviews, not just from the public but YouTube reviewers, and Concealed Nation actually awarded the Cloak Tuck 3.0 with the "Best Holster in the History of Ever" award. So I ordered the Cloak Mod and Cloak Tuck 3.0 with their super cheap 2 holster combo deal and was legitimately blown away when I found that these holsters actually do what the company says they do.
The Review
After owning three of their products (including one of their supportive gun belts) I subscribed to their emailer list and started following their press releases whenever they're featured on Ammoland or various gun blogs, and a couple days after Christmas, Alien Gear Holsters announced they would be releasing a "Breakthrough Holster System" at the 2017 SHOTShow.
My interest was immediately piqued. Long story short, they recently released the ShapeShift "Starter Kit" for pre-order and then began selling them, and nine months after they announced it, I finally got my hands on one.
Here's a picture of the box, it's pretty legit looking compared to the bags my other holsters came in.
I have been on Alien Gear's website a couple times, so I get the gist of the system. It's basically four holsters that switch back and forth to each other including an IWB concealed carry holster, appendix IWB, belt slide OWB, and an OWB paddle holster, PLUS you get a free holster mount.
So I'm going to start by saying, this system is pretty incredible, it seems so far ahead of its time. I honestly can't compare it to anything out there, because there isn't anything like it right now.
It's like Alien Gear Holsters came up with the idea of a modular holster, one holster that can become what you need depending on your day, and they hired those kids everyone knew growing up, that were crazy good at Legos and K'NEX, and they engineered the ShapeShift Starter Kit.
Or they just have a really intelligent design team and use some pretty amazing technology like their videos talk about.
Either way, the way everything fits together and changes, and every tiny detail of this system is just simply put – brilliant. It's relatively easy to use, and I would definitely buy one for everyone I know if I had the money.
So when you open your box, you'll see a packet with your instructional booklet, a parts chart, and some stickers. Right next to this is your backers for the belt slide/appendix holster (they're the same thing), and the IWB holster.
So the system does seem overwhelming at first, especially the parts chart. However, don't get discouraged right away, because the instructional booklet is really well thought out, and makes putting everything together quite simple.
Once you do each holster configuration, you'll understand how the system works better, and you won't have to keep referring to the instructional booklet. At least that's how it worked for me.
Also, I'm going to plan on keeping the ShapeShift box and putting it in my closet along with the booklets and everything, in order to keep everything organized and labeled they way it was.
So I'm going to list some categories and rate the ShapeShift Starter Kit, and you guys can comment below and let me know If I missed anything.
Here's a picture from Alien Gear's website on how each configuration looks worn, in case any of you were completely new to the ShapeShift.
Ease of Use
I would give the ShapeShift Starter Kit an 8 out of 10. The instructional booklet really simplifies things, and once you put everything together you actually will start to put together the holsters on your own.
Quality
10/10 This is a very high-quality product, that was one thing I noticed right off the bat. With the "Forever Warranty" that comes with this product, and the fact that Alien Gear Holsters makes their products so affordable, they would be shooting themselves in the foot if they made crappy holsters. The holsters look and feel as if you should be spending twice the price.
Price
10/10 The holsters look and feel as if you should be spending twice the price. And at $99.98, I was blown away. Just one holster, out of the four holster positions in the ShapeShift, averages to about $70 each from other holster manufacturers… You're getting 4 holsters for a little over the price of one. There's a huge bonus to combining holsters like Alien Gear Holsters did with this product, because you can cut down on parts and costs if you make them universal.
Pros and Cons
I'm going to be completely honest and say I had to really churn my brain to come up with some cons about the ShapeShift Starter Kit. I'd have to say there are a lot of pros: you save space, money, and you now have a lot of choices of how to carry.
Also, can we just address a HUGE pro of this whole system, which is the IWB holster position? It is a hefty upgrade from my Cloak Tuck 3.0… The whole system is reduced in size and more concealable, but the surprising thing is I cannot feel a difference between how it carries my 9mm! You think it would feel heavier in a smaller holster but I think it's actually the opposite. You would also think that how they attach the shell to the holster backer at one point would make the safety iffy, but again, it didn't change a thing. If anything the holster is more comfortable.
I have one teeny little gripe about one of the positions for the cons, the concealable slide position, when you put on the belt slide adapter for the right side (the side without the trigger guard) it is a tad difficult to put on the twist lock and remove it. I also am not a huge fan of the thumb release, but that might be because I'm not used to using them. The "adjustable retention unit" of the holster is perfect on its own, your gun (very satisfyingly) clicks into place, and you can adjust the retention for a more snug fit. Also, some might say it's a con to take the ShapeShift box with you everywhere in order to have all the parts available to switch to a new holster position. I think it's pretty simple and don't mind it at all.
I know as I continue to use it more, the parts will become more familiar and I will just know what to do from the get-go if I plan on switching to another position.
Conclusion
This ShapeShift Starter Kit is a modern breakthrough in holsters, I would never have guessed this system would come about so soon, and be as great as it is from the beginning. I'm sure Alien Gear Holsters will continue to improve and upgrade certain aspects of it, and I couldn't be more excited for the expansion packs coming in the future (thigh, ankle, MOLLE, shoulder, pocket, backpack, forearm).
Some may write it off as too complicated, but it truly is simple to use for anyone, with easy to use instructions and pictures to guide you through the changing of positions.
You can't go wrong with a 30-day test drive from Alien Gear Holsters, and their Forever Warranty shows you how much they really believe in their products.
I give it the full recommendation, the price is shockingly good, and you're going to want the Starter Kit for the rest of the expansion packs in the future. Also, I saw that Alien Gear recently released each of the holsters in the Starter Kit by themselves so you can pick and choose.
They are more expensive individually than if you were to buy the Starter kit, they run from $49.88 t0 $55.88 each. Just do yourself a favor and get the Starter Kit, you'll save more and have more options.