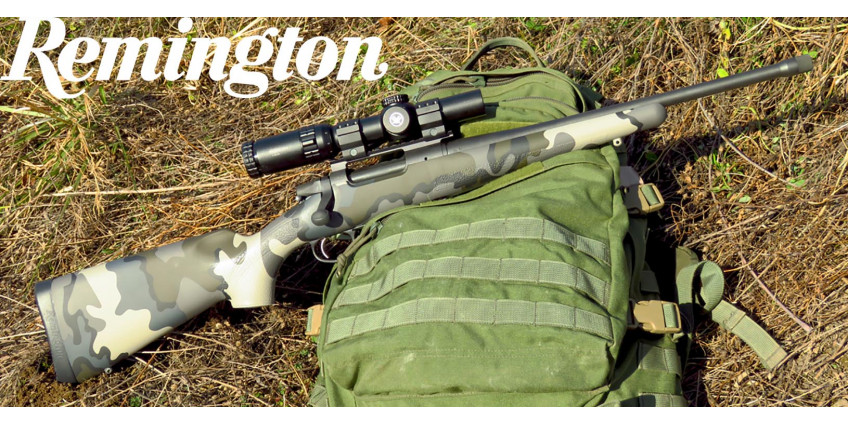 She cordially opened her doors to the best minds of her time and was renowned for her innovative approach to her products. The Remington Company, over its almost two-hundred-year history, has had a tremendous impact on the history of America, the development of the arms craft, and the formation of a unique attitude of Americans towards weapons. Over the centuries of working with professionals from different fields, a list of the most popular and successful models that deserves your attention has accumulated. We will draw your attention to the leaders among the Remington models and share our opinion on using this weapon.


A brief history of the company.
The story began in 1818 when the young and ambitious Eliphalet Remington made a barrel and designed a flint musket in his father's forge. The weapon had no analogs, and Eliphalet received many orders for its manufacture. He founded a small arms manufacturing firm and began selling all over America. Things were going well, and by 1928 he had moved to the two-hundred-acre site that still houses the Remington factory in Ilion, New York. In 1845, he received his first contract for the supply of five thousand rifles for the army. In 1871, the Remington Ammunition Works was founded to manufacture cartridges and ammunition. In addition to guns and cartridges, cutlery, knives, typewriters, and even chainsaws were launched. America remained a neutral country but provided the allies with weapons. The Remington Company carried out orders for the government during all the wars. Half of all guns for America's allies were supplied by Remington. Despite significant production volumes, the company has experienced several ups and downs. Remington filed for bankruptcy several times and quickly got out of it. In 2020. after crossing the 200-year mark, the company's trademark was sold to Vista Outdoor. After her, Cerberus Capital Management became the owner. Remington is currently owned by Rem Arms and has hired staff to resume production at the Ilion factory.


Significant weapon of the company.
The most famous shotgun in the history of Remington is the Remington Model 870. For all the time it has sold about 10 million copies. There are versions for the army, police, athletes, hunters, and self-defense. This pump action shotgun is the most reliable, durable, smooth, and easy-to-use weapon imaginable. Durability and affordability, along with superior combat qualities, put this weapon at the top of our list. Even so, this superior weapon can be improved by adding a night vision scope or a thermal scope. Hunters and law enforcement agencies actively complement the Remington 870 with night vision goggles or thermal imaging binoculars. The second most popular bolt-action rifle is the Remington 700. It has been tested in many countries under various conditions and has always been the most reliable partner. A lot of shooters from all law enforcement agencies give the most positive reviews about his work. There are versions for hunters and athletes. Perhaps the 700's greatest strengths are its accuracy and structural strength. Our next favorite is the Remington Model 1100 rifle. In its price range, this is one of the best semi-automatic rifles used for hunting and sports. Its distinguishing features are excellent balance, durability, and smooth recoil from the gas seal. There are models with synthetic and walnut stock. No less attractive is the Remington 7600 rifle. By its mechanism of action, it is a pump-action rifle. It is designed for close combat with a series of quick shots. Its operation is smooth, unloading of the cartridge is instant, and the accuracy is outstanding. Hunting from a ground cover is entirely possible when equipping it with a thermal imaging sight or a night vision sight. Its best application is to hunt deer or wild hogs. Our list will continue with the Model 783, with professional-level shooting accuracy but at an affordable price. This model is made for hunting. It can be found with synthetic or walnut stock.
Another Remington Seven caught our attention due to its compact size, reduced weight, and accuracy. It will be good in the forest and field, both for a close shot and a long one. The Seven is built for freedom of movement in tight spaces and has a decent rate of fire. Despite its size, it has outstanding strength, reliability, and durability. In combination with night vision goggles or thermal imaging monocular, it is suitable for night hunting. We can't imagine our weapon rating without a completely non-standard VERSA MAX shotgun. Its two-piston system is smoother than the traditional BHO system. This weapon accepts as much ammunition as you want in any temperature and climate. Trouble-free, reliable, with minimal maintenance. It is ideal for hunting. We cannot pass by the most outstanding semiautomatic shotgun in the Remington range, the V3. It uses the improved Versa port propellant gas evacuation system, making it possible to use cartridges with almost any hitch. This weapon is lighter than the Versa Max, making it suitable for long hikes. The V3 has outstanding reliability and very soft recoil. Accepts all projectiles from 2¾ to 3-inch magazines. Ideal for all types of hunting and sports. Has camouflage and colors for all regions of America. For hunting near water has a ceramic coating. This is a gift for any hunter.

We have presented to your attention a wide selection of reliable, accurate, and durable weapons for a wide variety of preferences and tasks. Even though over the past 13 years, Cerberus Capital Management has slightly reduced the quality of products, the new owners promise to return the former quality and the most popular models to dealer shelves in the shortest possible time. We hope very much for the revival of the former power of Remington, and until that happens, we will be courting our old favorites. In a pandemic, it will not be superfluous to recall the possibility of reducing the risk of infection by buying weapons and ammunition through online stores with a solid reputation.