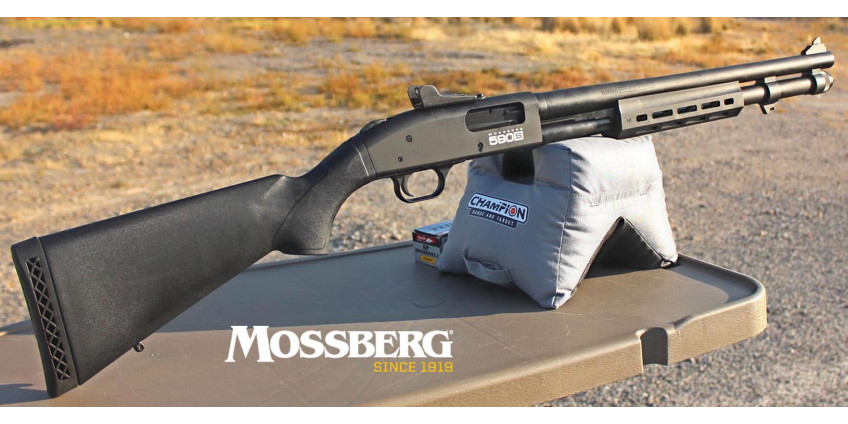 Mossberg is truly an American legend, celebrating its 100th anniversary without losing its taste for innovation and new developments. It is one of the oldest arms companies in America and is a family business. The fourth generation of the family has led the firm and is proud of its heritage. The great name has been ensured by the excellent quality, reliability, versatility, durability, and availability. In this article, we'll take a look at the best Mossberg designs and offer NVD that enhances the capabilities of this premium weapon.


A brief history of the company.
It all started with one person - Oscar Frederick Mossberg. In 1919 he was 53 and founded the O.F. Mossberg and Sons" with his sons. He was not new to his business. He had a good experience in two arms companies. Oscar was full of ideas, optimism, purposefulness, and suitable investment. The first weapon they released was a Brownie pistol, 22 gauge, four-shot. In addition to the apt name, it was distinguished by its "pocket" size, trouble-free operation, and a price of six dollars. For 13 years of popularity, its release has reached 32 thousand units. This allowed the company to raise funds and launch the production of shotguns and rifles at prices ranging from $ 5 to $ 15. As a result, during the Great Depression, when many companies were on the verge of closing, the Mossberg celebrated the release of 1 million weapons units and hired additional workers. Continuing to improve during the war, they smoothly went on to their most iconic 1962. Mossberg released the 500 model, which became the most popular and most widespread in the world. This weapon is still considered one of the best. A batch of 10 million in 50 years will say a lot about quality and reliability. The Mossberg has received over 100 patents and released a whole list of new iconic shotguns during their existence. They adhere to two slogans in their work: "Big weapons for a reasonable price" and "Attract and retain customers for life." The company works closely with the US Police and Army, professional athletes, and hunters to fully meet the needs of its customers. Mossberg is a living embodiment of the American Dream and a great example of professionalism and love for what we do.


The iconic weapon of the company.
As we wrote earlier, the most iconic model is the Mossberg 500. This is a universal platform that can be modified to suit your needs for everyone, from the population to the needs of the military. Among its advantages, we note the location of the fuse on top. It is safe, convenient for those with a dominant right or left hand. Double extractors, double-acting arcs, an anti-jamming lifter, reliable steel-to-steel interlocking ensure the shotgun works smoothly. The stocks are striking in the variety of materials, colors, and transformation possibilities. The 500 and 590 models come with a FLEX TLS system that deserves attention. It is a tool-free retention system, allowing you to change the stock, barrel, forend, hunting or tactical accessories, shock absorbers in seconds. Thanks to this, you can choose the perfect weapon for your needs, body features and change the specialization of firearms in the field.
Among the hunting versions of the 500 model, there are about 20 options, including combined and specialized for turkey, goose, and deer. All weapons can be equipped with any sights, including telescopic sight, night vision scope, or thermal imaging sight. It is possible to mount an IR illumination, a flashlight, or a night vision monocular. Many experts appreciate the 590 models for their versatility. It can be used for personal and home protection, including for women, and hunting waterfowl and turkey. The stock is interchangeable. It is possible to put a shortened barrel and all this in a matter of minutes. It is reliable, easy to assemble and operate, and never jams. He has about 15 modifications, including tactical ones. For security officials, we note the presence of a forend with three guides for flashlights and lasers and adjustable stocks for quick adjustment of the rod length. The Maverick 88 was created as a more affordable version of the 500 model. It has proven itself in the field, forest, mountains for personal safety, official duties, and sports. 88 Mossberg are fully interchangeable with the Model 500 within the range of caliber and volume. This makes it phenomenally flexible to customize to fit your needs. For sports purposes, you should pay attention to the Mossberg 940 JM Pro. The trigger is highly responsive and gentle, developed with the assistance of Shooting Champion Mikulek. This carabiner withstands triple load capacity flawlessly. Mossberg 930 in the best traditions of the company, is a universal platform with easy adaptation for their purposes. Police, military, intelligence agencies, hunters, athletes, homeowners will all be satisfied with various styles and specialized series.
Of the features is the presence of a double gas release system, a quick-release button for the magazine to facilitate unloading, a receiver with holes and threads. For hunters, there are various types of sights for deer, turkey, waterfowl. And also an adjustable drop on the ridge with a stock padding system on synthetic models. For athletes, we recommend looking at the 930 Pro-Series Sporting. It has a unique premium finish, a sporty stock with a clay stock with an adjustable drop designed to fit right out of the box, HiViz scopes, and Briley chokes. This is a novelty developed with the participation of professionals. For hunters, we recommend the Patriot carbine. The base model features drop magazines, a fluted barrel, recessed crowns, a streamlined bolt handle with spiral grooves, Weaver scopes, and a patented trigger system. It can be supplemented with night vision goggles or a thermal imaging monocular for night hunting. For lovers of lever-action rifles, we can recommend the 464 Center Fire Rifle. This is a classic, spiced with modern technology. It is suitable for home protection, hunting. It has a friendly price, a reasonable rate of fire, and excellent penetration.

The Mossberg weapon has served for decades, has a trouble-free operation, has an ingenious system of changing parts of weapons without tools, and at the same time is affordable. Everyone can customize the gun to their height, shape, shooting characteristics, occupation - these qualities make every Mossberg weapon owner fan. The company applies the latest materials, high-tech finishing methods, designs weapons with professional users, and applies innovations to new models. Once acquiring a basic set of weapons, you can endlessly upgrade and adapt to your changing needs for almost your entire life. In our opinion, this is a pretty attractive prospect and mind you, for a reasonable price.