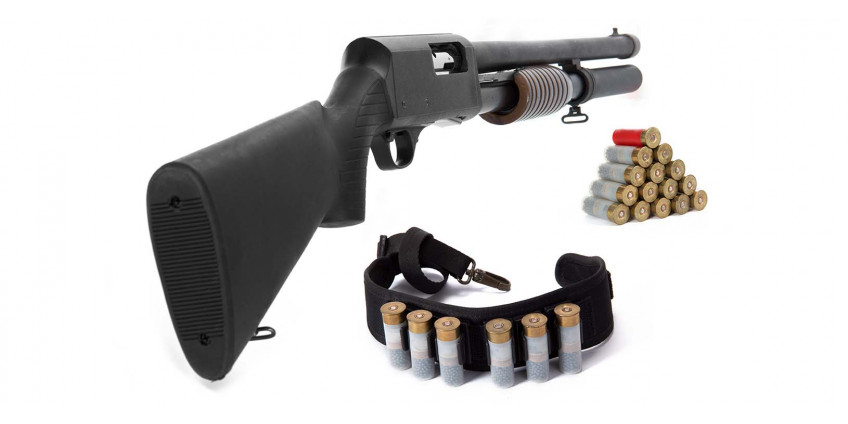 The phrase "night vision for a shotgun" for most hunters sounds like something unreal. But in the modern world, with its inventions and abilities, practically nothing is impossible. And if you wish, you can choose the night vision devices for your weapon to enjoy excellent hunting. In this article, we will reveal the secret of how to do it and what could be an alternative to such a solution.
What is night vision?
Night vision gives the hunter the ability to see in the dark. How is this possible? The NV device captures light, which is reflected by absolutely all objects, and converts it into a clear image. Our eyes can capture no more than 30% of the reflected light. Therefore, we see almost nothing in the dark. But the sensitive lenses of night vision devices catch the maximum possible amount of light, amplify it and transform it into a picture.
With the help of night vision, the hunter can see all objects in the field of view of objectives, notice any movement, and even motionless animals. For such equipment, the light of the stars and the moon is enough for effective work, and night vision manufacturers propose models that can work in complete darkness. The only drawback is that such devices can't work in poor visibility conditions like fog, smoke, or smog.
Shotguns – what is it?
A shotgun is a smooth-bore firearm with one, two, or more barrels that can fire a shot (metallic spheres) or small-caliber bullets. The shotgun is designed for shoulder shooting and has strong recoil. One of the main advantages of such a weapon is the quick reloading of the magazine. Due to this, it is much more convenient and mobile in conditions of active hunting.
The shotgun has a mechanical reloading method. The firearm design is quite simple, but at the same time reliable, so breakages in shotguns are a scarce thing. There's just nothing that can be broken! Besides, shotguns are not afraid of dust and moisture.
The weapon can be loaded with various types of ammo. There are many options in stores, from which you can choose the most suitable for a particular type of hunting. A unique feature of the shotgun is the ability to move the scope while reloading. This allows you to keep your eyes on the target if you need to change the magazine.
The shotgun is an excellent choice for hunting birds, ducks, and small animals. The maximum firing range is 70 meters, but it is most effective at a distance of 45-50 meters. Also, the shotgun does not have a very high shot power. Therefore, such a weapon is great not only for hunting but also for protecting your home, territory, security, and even target shooting competitions.
Why you need night vision for a shotgun?
If you want to equip your shotgun with a night vision scope, be ready not to find the suitable option, or your firearm model doesn't prepare for it. You will ask if everything is so complicated, why do I need it? Here are some benefits you'll get with NV:
• You could aim well while lying or sitting in your ambush. However, let's say you heard or even saw your target, but it is difficult to aim well in poor visibility conditions. A night vision device will provide a clear image of the surrounding area and all objects. In last night vision generation models, it is possible to enlarge the image, determine the distance using a reticle or built-in rangefinder.
• Night vision devices will help you make fast, accurate shots. You can hit a moving or running target with a success rate of up to 90%
NV devices on night hunting are your eyes, with which you can easily see what is hidden in the dark. And with the fast shotgun reload possibilities, you can shoot almost any animal.
Can you use night vision with a shotgun?
The phrase "Who seeks shall find" is appropriate here the best. You could use night vision with a shotgun, but follow a few rules:
• The rail on which you will mount the sight or clip-on system must be installed initially.
• Steel, not a light-alloy receiver.
• All mounting systems should be as light as possible.
Most shotguns are made of light-alloy materials, so the rail cannot support over 300-500 grams. In addition, when installing heavier equipment, it will most likely warp and come off, rendering the entire shotgun unusable. To use your night vision freely, start by choosing the right firearm.
Benelli
A guest from Italy who has proven its excellent quality. Benelli is compact and unpretentious. It can be cleaned in just a couple of minutes. Moreover, the manufacturer promises that it can be done about 25,000 shots from such a shotgun without repairing or replacing any parts.
Benelli under-barrel magazine is designed for 7 cartridges of 12-16 calibers. The barrel usually is chrome-coated and very durable. On top of it, there is a Weaver rail, on which you can attach the night vision sight or something else. There are slots on the rail, each 0.18 inches wide. Due to this, almost any accessory can be attached to the Weaver rail – a sight, a flashlight, a rangefinder, and more.
Mossberg maverick
The production of Mossberg Maverick began in the 1980s, and this shotgun remains popular today. It is a lightweight and compact weapon with a manual reloading mechanism and an under-barrel magazine. The receiver is made of aluminum alloy, due to which the weight of the weapon is noticeably less than that of models with a steel receiver.
The design provides the installation of an additional side bracket to which you can then attach a scope, flashlight, collimator, or rangefinder. Due to the low weight of the weapon, the attached accessories must be light and compact. Otherwise, the shotgun will no longer be comfortable during shooting.
Remington
Remington has been one of the most famous and popular shotguns for over 70 years. Its production began in the U.S. in the 1950s, and since then, the technology has not changed. The receiver is made from a piece of steel, due to which it is incredibly reliable. The manufacturer guarantees at least 30,000 shots without the need for repair or replacement of any part. Remington is also popular for its customization opportunities and durability. This is the perfect option if you want to go night hunting with cool extra equipment without limiting your choices to simpler models.
If you are not ready to spend money on an expensive high-quality shotgun with which any ideas for night hunting are possible, an alternative can be separate night vision devices:
• Night vision goggles. They are lightweight and suitable to wear for a long time. In goggles, you can track your target, move through a dark forest or field, and even drive a car at low speed.
• Night vision monocular. It has one eyepiece, so very compact and can be carried in a shirt or jacket pocket. Not suitable for constant wear because the difference in the resulting image causes eyes to get tired.
• Night vision binoculars. A great option if you like to track your target at a big distance and then make an accurate shot.
But we recommend you to take a chance and create your own unrealistically cool set – a shotgun and night vision. This will provide incredible opportunities for night hunting – accurate shooting at close range, the ability to hunt for a larger game, no need to use a flashlight. If you already have a good shotgun with a rail and a sturdy receiver, all you need to do is find the right NV model and be ready for an amazing hunt!