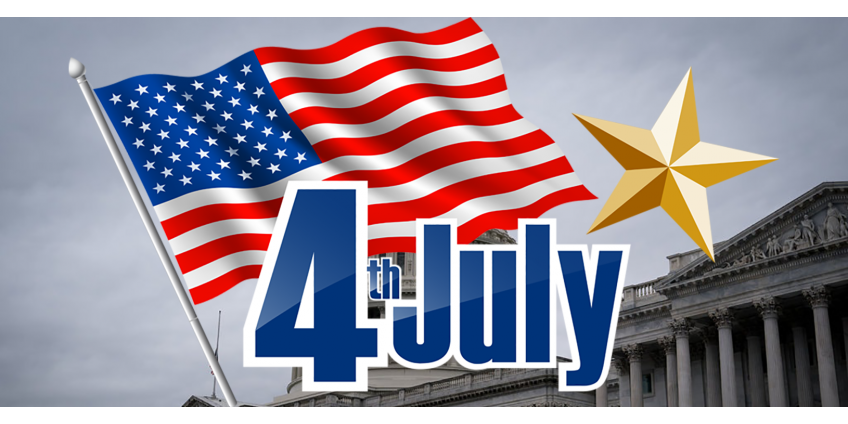 Fourth of July Sales!
Enjoying the right to bear arms can be difficult if the price isn't right. Fortunately for American gun owners, retailers celebrate the birth of American freedom by slashing sales.
Did you know John Adams and Thomas Jefferson both passed on July 4, 1826, 50 years after the adoption of the Declaration of Independence?
It was Adams who once said, "Liberty cannot be preserved without general knowledge among the people." So, in the name of liberty let's spread some knowledge about a few Fourth of July sales and product offerings.
Nosler offers a limited-edition Independence Day Rifle
Nosler, a firearms and ammunition retailer in Oregon, is offering a limited edition Independence Day version of their Model 48 Liberty rifle chambered in the 22 Nosler cartridge.
There will only be 25 in this series that will be manufactured and shipped. It has a Kryptek Highlander stock finish, a graphite black Cerakote color, a stainless steel barrel, 1-8″ twist rate and a barrel length of 24″. It comes with a four round magazine.
Price: $1,995
Caracal USA will offer a limited-edition pistol at select retailers starting July 4th
Caracal USA will offer the Caracal Enhanced F Limited Edition Pistol to a select group of retailers starting July 4, 2017. This is Caracal USA's first product release.
The Caracal Enhanced F is a striker-fired, polymer-framed 9mm. With a double-action trigger and an 18-round magazine, it comes available with either 3 dot sights or their "Quick Sight System." It places both front and rear sights on the same focal plane so the shooter can gain a clear sight picture quickly on their target.
It comes with two magazines.
Price: $599
Overstock is offering a gun accessories Independence Day sale
Overstock, an online retailer, is offering sales of up to 70 percent off on select guns and gun accessories.
The gun accessories are categorized into several sections: stocks/grips, holsters/belts/slings, reloading equipment, tactical, gun cleaning, barrels/chokes, hearing/eye protection, ammo boxes/bags/holders, bipods/benches/rests, targets/chronographs, bore sights, magazines and clay shooting.
Cabela's Fourth of July sale
Cabela's will offer up to 50 percent savings on products distributed across various categories.
Shooting and firearms, fishing and boating, camping and outdoor cooking, and clothing and footwear all feature bargains. For example, the HK VP series pistols are up to $100 off. The Springfield Armory XD-E pistol is $50 off. There's a 20 percent-off deal on Hornady American Gunner handgun ammunition.
Cabela's safes are up to $150 off as well.