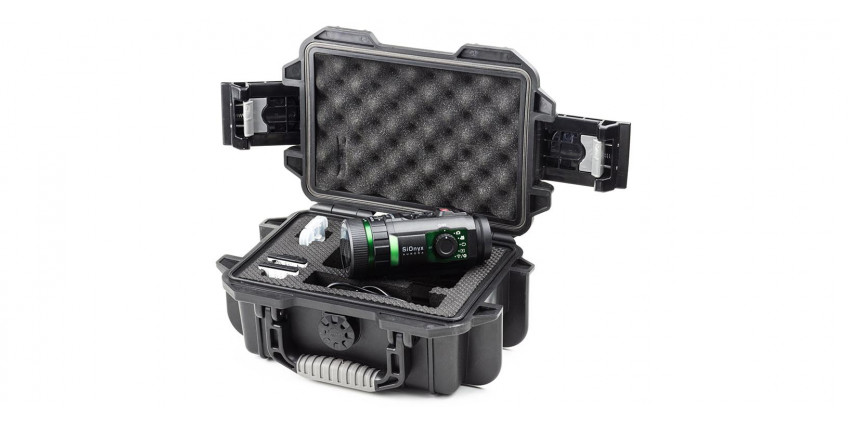 Hunting success depends on many factors. The weather, animal behavior, luck, and professionalism of the hunter will influence the result of the hunt. With equal conditions and experience, the luckier will be the one who uses the more technologically advanced equipment. The night vision device uses the most modern developments and provides undeniable advantages. In this regard, the issue of storage and transportation of night vision equipment has become acute. This article will analyze what types of NVD are available and how to choose the best foulard for your optics.


Night vision device and why it is important to protect it?
Although any night vision device is made of durable materials, it requires protection with protection from water and dust. Its lenses are made of an alloy that is highly sensitive to light, dust, and grease. The instruction does not recommend touching the lens glass with your hands to avoid damage by grease from your fingertips. Glare from car headlights, lanterns, daytime running lights, fire can damage equipment. When exposed to bright light, an automatic shutdown is provided, but the screen should not be exposed to intense radiation, even in non-working mode. It closes securely with a lid after use. All this works great for leisurely events, in the city and at home. When family members, animals, bad luck, wildlife conditions, professional activities, transportation, and travel take the stage, the chances of staying whole are plummeting. Storing and transporting without a case may damage the sensitive device. The amplifier screen of the device is covered with a toxic substance - phosphor. If the device is cracked, try not to inhale the powder. Avoid contact with eyes, mouth, and wounds. If accidentally swallowed, medical attention is required. As you can see, modern devices require careful storage and a responsible attitude. By following simple instructions, night vision manufacturers guarantee the safe use of night vision optics throughout their entire service life.


Main rules of transporting and storing your NVD.
Before buying, most people research tons of information about their subject of interest. After purchase, only a few read the instructions. This is the main mistake of users. The manual contains important recommendations regarding this particular model of NVD. The devil is in the details. They are essential for the proper operation of the equipment. Therefore, we consider the most important rule to follow all instructions provided by the manufacturer. All night vision devices must be protected from a source of bright light. Otherwise, it can lead to costly repairs. Note that the warranty does not cover this damage. If the equipment stops working, it should not be repaired or disassembled by yourself. Entrust repairs to professionals and keep the warranty. If your night vision monocular gets dirty, moisten a glass cleaning cloth with distilled water and clean it. Avoid harsh and abrasive cleaning agents. After that, it should be thoroughly dried and packed in a storage case. Before storage, make sure that the device is turned off, the lens is closed with a cap, and the battery is removed from the case. Transportation and storage of NVD are possible only in the case intended for it. When flying and moving on trains, transportation in hard cases with a lockable lock is allowed. Note that the export of night vision devices abroad is prohibited without a license and special permission from the government.


Types of NVG cases.
There are several types of cases for night vision goggles. They are soft and hard. The body of the soft bags is made of nylon or ripstop. The inner layer is made of foam or polypropylene for shock absorption and protection. Soft cabinets are much lighter than hard ones. They are affordable. Hunters will appreciate the quietness, ease of fastening, and portability of these cases. Soft bags for night vision binoculars come in green or camouflage colors. Some models have many additional pockets and can serve as an alternative to pouches. They are protected from moisture, and some specimens do not sink in water. Lovers of hunting for waterfowl will appreciate this. In hard cases, the body is made of aircraft-grade aluminum, plastic, materials using carbon fiber. And the inner layer is formed of foam or polystyrene. A seal is laid along the contour, completely isolating the optics from the external environment. Many models are equipped with a pressure relief valve for travel in the mountains or by plane. Compared to soft cases, hard cases provide a much better shock, water, and dust resistance. But they are heavier, bulkier, and more expensive than soft cases.


What to look at when choosing an NVD case?
When choosing, we will take into account several factors. When hiking for a day, it makes sense to pay attention to the soft covers. They are easy to carry, convenient to use. They are attached to a backpack, clothing using the Mole system, and clips. If you plan to hunt or travel for several days, it is worth assessing the complexity of the weather conditions and the route. If the weather is favorable and the easy route, it is quite possible to get by with a softcover. It is best to rely on the highest degree of protection in harsh environments - a hard case. It is important how you get to your destination. It can be an ATV, a car, an airplane. Of course, it is better to use hardcovers on an airplane or other transport. In difficult weather conditions, a hard case will be more reliable. But, it will add significant weight to the equipment and will be inconvenient when transporting on foot. Moreover, its price is higher than that of soft bags. If you use a set of devices, such as a night vision monocular, thermal imaging sight, and rangefinder, it makes sense to take one case for all devices. When choosing a hard case, let us turn your attention to composite materials. They are lighter than aluminum ones and are almost as strong. The grooved surface of the case will be more durable than the smooth surface. The advantages of hard cases include the ability to customize the internal foam. This will keep gadgets from moving around inside the bag. Whether you prefer a soft or hard case, a lock is required. This will save you many unpleasant surprises.

To maintain the effective operation of night vision devices for many years, it is necessary to follow the manufacturer's recommendations strictly. When storing and transporting, it is advisable to use a case. Before purchasing it, you should determine your individual needs and conditions. By investing in the purchase of a night vision case, you will be sure of the safety of your optics.