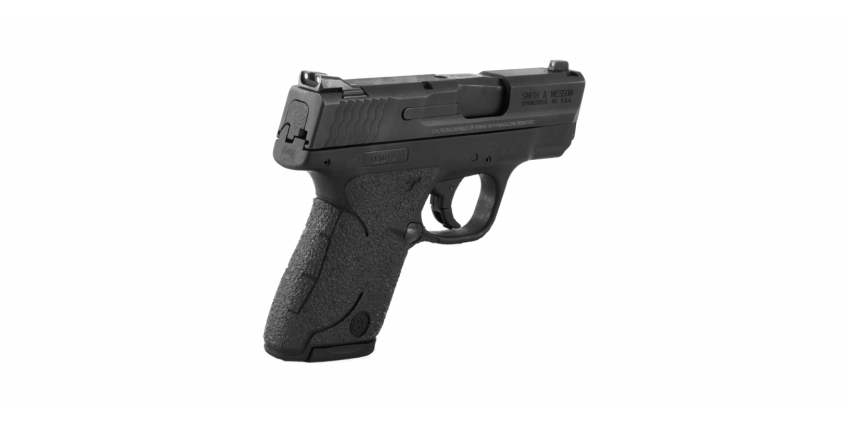 M&P Shield 9mm
Introduced by Smith & Wesson for their Military and Police (M&P) line in 2005, this compact firearm is a striker-fired locked breech semi-automatic 9mm single-stack pistol that has quickly risen to one of the top slots in the concealed carry world. With its polymer frame, it's also a light enough for just about every daily carrier.
Specifications of the Shield 9mm
Here's the direct specs of this pistol:
- Overall length: 6.1″
- Height: 4.6″
- Width: 1″
- Barrel Length: 3.1″
Note: the .40 caliber version has the same specs, the .45 Auto version is .2″ longer on the barrel and .35″ longer overall. The .45 Auto is also .05″ wider
The striker-fired mechanism prevents accidental discharge, even if the pistol is dropped. There are internal and magazine disconnects available as well as an external thumb safety, if desired. It also features a loaded chamber indicator and sear deactivation lever that allows takedown without having to pull the trigger. Its design also has an 18° grip angle, which S&W claims is the "optimized" angle for shooting. Many shooters have found this to be true, being able to draw, aim where they're looking without checking the sight posts, and be on target when they double-check themselves.
With only a moderate amount of recoil, almost any shooter should be able to use this firearm without difficulty. If one is partial to +P loads, you'll have a more snappy experience than you would with a longer barrel length firearm such as the M&P9.
Attachments, Holsters, and Customization
Given this weapon's prevalence in the concealed carry world, it's a given that there's loads of attachments available. Lasers from the major players, Crimson Trace and Viridian, are available en masse for use with this firearm's rail, along with a multitude of tactical flashlights. S&W built this firearm to be customizable to the shooter's needs, so a person can replace or upgrade most components of this firearm from custom grips to specialized sight posts. There are larger magazines available as well for those that want more than the standard 8 rounds at the ready.
There's a plethora of holsters available for this weapon too, any style and positional carry you could want. My personal favorite is the Alien Gear Cloak Tuck 3.0, with customizable retention and the high-quality injection molded shell that'll be featured (further advanced and developed) on Alien Gear Holsters' new Shape Shift system, that provides the perfect amount of retention while not damaging the finish.
When everything's said and done, this is one of the best concealed carry weapons on the market, from one of the most legendary manufacturers in American history. It has performed above and beyond in over a decade of service, proving its reliability time and again.