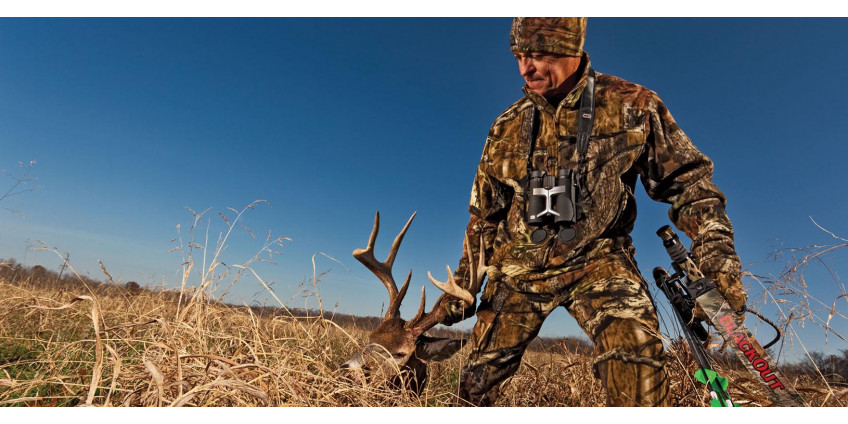 A large share of success in hunting lies in the rational selection of equipment for hunting deer. It depends on whether the deer notice you or not. The problem lies in the direct eye contact, the deer's extreme sense of smell, and keen hearing. With insufficient attention to your hunting clothes, there is a risk of being detected, even before the animal enters the zone of destruction of your weapon. In this article, we will focus on all the intricacies of deer hunting equipment.


Types of a deer hunt.
All hunting seasons are attractive in their way and have their advantages. The hunter's task is to use them competently and neutralize possible unfavorable factors. There are several types of deer hunting - winter, early autumn, and late. Night vision cameras for observing animals or deer counting specialists can help decide which of these periods is best to use. With a strong desire, you can cope independently, keeping the number of animals through night vision binoculars from a distance, remaining unnoticed. It is very convenient to count animals while feeding at night when they are relaxed, and their attention is waning. If the number of deer exceeds the number of forage lands, it is advisable to go hunting in the early season. With proportional portions of forage and reindeer herd, rutting season will be the best time. Sometimes, when the hunting grounds are overflowing with mass hunters' pilgrimage, the best season will be late autumn or winter. Not all hunters are ready to endure the severe cold, high snow, and icy feet. Most of them will stay at home, and winter hunting enthusiasts will have a dramatic increase in harvest chances. Regardless of your preferences for seasonal hunting, it would be best if you decided on the equipment before the opening of the hunting season.


Clothing for a deer hunt.
The best clothing for hunting deer is considered camouflage hunting clothing explicitly designed for the needs of hunters. Unlike the usual one, it provides several benefits that cannot be obtained from ordinary things. We consider the control of human odor to be one of the most important. Most hunting clothing has this feature built-in. Everything works for this, from Nano impregnations that kill bacteria to multi-layered membrane layers that give excellent ventilation and do not let water through. Hunting clothing is lightweight, has increased wear resistance, is anatomically correct, and provides freedom of movement. It keeps you warm, even when wet. The layer system maintains a comfortable body temperature for the hunter in all weather conditions. In addition to their primary function, hunting clothing often comes with many convenient compartments and pockets for essential items. Cocks and trousers are equipped with bags for a navigator, phone, monocular or night vision sight, documents, knife. Many hunting uniforms are made on the principle of "three in one" and significantly save space and weight in backpacks. Separately, we note the camouflage that helps to blend in with the terrain. The choice of colors, patterns, and models is simply huge. Some models simulate a heap of foliage in 3D. The silhouette dissolves into the space of the forest, and you remain wholly hidden in the game. Among other advantages, we highlight the noiselessness of the materials from which the hunting equipment is made. Deer have a compassionate ear, and this quality is highly demanded among hunters. Before buying gear, we recommend checking out reputable hunting clothing brands and reviewing reviews from hunters with an impressive track record.


Why are boots essential?
In our opinion, boots will either give you a chance to forget about your existence and focus only on hunting altogether, or they will bother you all the time and cause inconvenience, completely depriving you of the opportunity to concentrate. It is no secret that a hunter spends a lot of time either on the road, in a very long wait, or walking loaded with the maximum weight of a trophy and a backpack. Therefore, his boots must withstand all the difficulties of rough terrain, be moisture resistant, keep warm during the moments of prolonged observation, withstand significant weight and protect his feet from accidental collisions with stones and branches. Our favorite sneakers will lose out to professional hunting boots in many ways. They are created for other tasks and will not work in hunting conditions. In addition, hunting boots have odor control, which is essential for a successful hunt. Add extra durable materials and membrane layers to control moisture and heat and a unique three-layer sole construction. You will understand that the production of hunting boots requires high technology and proper equipment. When preparing for the season, it is not enough to choose a model of boots. You need to select the exact size. The boot must fit a warm sock, warm insole, and space for your toes to move. Too tight shoes rub the feet up to bloody calluses and contribute to hypothermia of the feet. And with such problems, it will be tough on the hunt. In addition, boots should be worn to a state of absolute comfort for a long time. Either all the hunter's attention is concentrated on the hunt, or he is busy with health problems. Here everyone is free to choose.


Additional equipment.
What should be taken from the additional equipment depends on the temperature and weather conditions, the place of the overnight stay, the duration of the event, the availability of a car, and personal preferences. If the hike is many days and there are no conditions for spending the night in the car, it is helpful to take a tent, a set of kitchen utensils, a sleeping bag, a camping stove, and water filters. Sound equipment includes suspended tree observation platforms, ladders, camouflage curtains, and blinds for ground observation. It would be best if you grabbed reindeer pipes for grunting, reindeer odor lures, a pair of reindeer antlers to create the illusion of a bullfight, a hacksaw to clear the line of fire, and an odor neutralizer. Don't forget to bring a butcher knife, a pair of rubber gloves, a meat pouch, and a carcass carry bag. Special equipment, rangefinders, night vision devices, surveillance cameras, navigators will be helpful. You will want to take a picture with your trophy. A good camera will be beneficial too. Solar panels and an external battery will be needed to recharge the equipment. For comfort, it is helpful to bring a headlamp with a dual battery pack. Be sure to check for a license, tag, fountain pen, and rope. It will not be superfluous for those who go hunting in the car to grab a refrigerator for meat. The presence of a navigator, air conditioner, and an overnight kit in the car is welcome. A separate item to highlight is wearing at least 500 square inches of orange on the head, chest, and back. When observing from a blind curtain, wearing orange is mandatory and must be marked on the outer surface of the curtain. Remember that safety comes first.

In our humble opinion, hunting planning well done is half the success of the hunt. And experience is always a gain. To accumulate, you need to go hunting in good company and enjoy nature, communication, and get a surge of emotions during a duel with a deer. Over time, anyone becomes an experienced hunter. Its main task is to preserve nature for its children and grandchildren. And, if possible, instill in them your love for the wild. The most pleasant bonus in this whole story will be the time shared with loved ones. Perhaps this is the most valuable thing a person has.