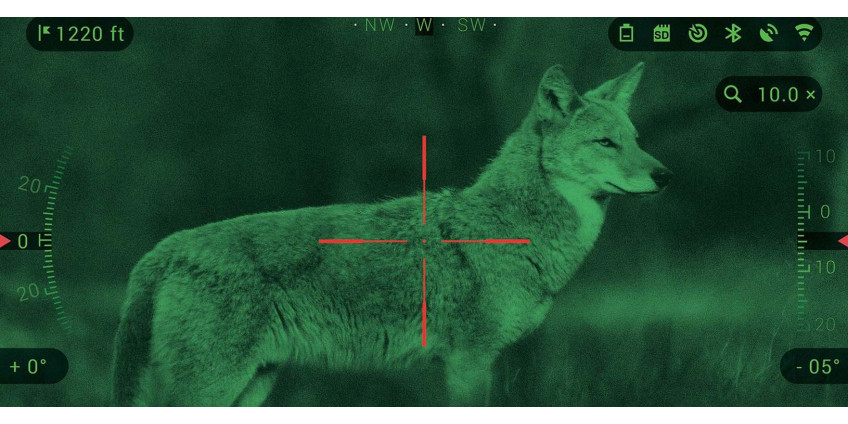 Coyotes in America are among the pests, so their shooting is allowed in all states. Coyotes live in North and Central America, in prairies, deserts, and mountains. Although these animals adapt well to any habitat and today even coexist with humans.
Coyote hunting is one of the favorite pastimes of American hunters. To track down and shoot a coyote, you need to have a good rifle and equipment, as well as nerves of steel. Coyotes can sense the presence of a hunter by smell, the crunch of branches, or the tinkling of keys in the pocket. Coyotes are nocturnal animals, so you have to hunt them at night. Not to return from such a hunt empty-handed, you will need the night vision devices, the most essential of which is considered to be a scope.
We have prepared an overview of the Best night vision scopes for coyote hunting and will compare them in all important parameters. And we are sure that after our review, you will definitely choose the best one for yourself.
Pulsar Digisight N455 LRF
Belongs to the premium class, because it combines all possible functions:
• "Picture-in-picture" mode will allow you to simultaneously see the entire territory in the field of view and a separate window of a specific object.
• Waterproof. The level of protection is IPX7, that is, such a device is not afraid of the rain and snow, it can lie in water for 30 minutes at a depth of 1 meter.
• Various reticles. You can choose any reticle from 10 options in 6 colors. Also, such a ballistic reticle can quickly and accurately determine the distance to the object.
• Ability to work in different temperature conditions – from -25 to +50 degrees.
• The range of view is 550 yards during the daytime, and 250 yards at night.
The Pulsar Digisight N455 LRF is a great optic for those who love long-range hunting. It has a high-resolution AMOLED display. Due to this, in any visibility conditions, you will see a clear and bright image. Such a device is ready to work within 3 seconds after start-up, and the battery capacity is enough for 5 hours of work at the highest settings.
By the way, about the battery. It can be replaced without removing the device from the rifle and without being distracted from the hunt. You can customize the work of the scope using 4 buttons located on the body of the device. You can adjust the brightness, magnification of the picture and even record everything that the scope sees. The built-in 16GB memory is enough to record one or more interesting coyote hunts.
Combat 3-9x32 E
A compact and lightweight optical sight from the American company Combat is suitable almost for any type of hunting. Its main advantages:
• The objective lens diameter is 32 mm, but even with such parameters, the scope has a good viewing angle of 18-43 degrees.
• The settings for brightness, magnification, and others are on the body of the device and are convenient enough during operation. With the help of the 4 buttons, you can set all the necessary parameters.
• Multi-coated lenses capture the maximum amount of light, so the image will be bright and clear, even in bad visibility conditions.
• The reticle has a center point highlighting with red or blue on your choice. This allows you to clearly distinguish the center of the field of view.
• The device is dustproof and waterproof, has the capability to withstanding shocks up to 3700 kJ.
In general, the Combat 3-9x32 E is a versatile optic for any hunting conditions. Its big plus is low weight and optimal tube length. It can be set up with one hand, and the rubberized buttons do not make unnecessary clicks, which is very important when hunting coyotes.
TWS GSCI
This thermal scope was made in Canada. The main advantage is the fastest possible data processing speed. Due to it you will see the real-time image and notice the movement of the fastest coyote. Besides:
• The scope is quickly attached and removed from the rifle using two rotary levers.
• Has two types of magnification – 2x optical and 4x digital. This will allow you to see even the smallest details and objects without getting close to the target.
• You can set the diopters depending on your level of vision – from -2 to +6 diopters.
• Dust and water resistance IP67 allows you to use the scope any conditions and in any weather.
• The objective lens diameter is 50 mm, it has a good viewing angle and captures all types of heat radiation around.
• Has 8 reticle types, so you can choose the most convenient option for each specific situation.
The set includes a battery pack, one charge is enough for 5 hours of work. There are 6 setting buttons on the body. Due to this, with one hand, you can change the brightness, magnification, select the reticle. The weight of the device is 800g.
AGM Secutor TS75-384
AGM Secutor TS75-384 scope is the market leader and our review leader too. It combines all the important features to become the best – functionality, quality, versatility. So, why it is so great:
• In autonomous mode, the scope works for 5 hours, but when connected to an external battery pack it can work for 44 hours in continuous mode. You can also connect Wi-Fi, a monitor, or a video recorder to it.
• Simple control using buttons that are conveniently located on the body. The buttons are rubberized, so they will not make clicks when pressed.
• The high-resolution OLED display provides incredibly clear and colorful images.
• 2x optical and 4x digital magnification will help you to see every detail.
• Function "Picture-in-picture" with the possibility of 2x magnification. That is, you will simultaneously see an image of the entire area around and in a separate window a specific fragment of it.
• Soundless calibration that can be done by hand if desired.
• Stadiometric rangefinder. A specially installed program will calculate the distance to the target, taking into account its real size and height.
• Target detection at 1200 yards and recognition at 600 yards.
• Lens diameter 75 mm with the first focal length.
• IP67 water and dust protection level.
A big plus of such a device is the high accuracy of image transmission of moving targets. The processor update rate is 50 Hz, so your eyes do not get tired even after long-term use of the device.
The weight of the AGM Secutor TS75-384 is only 760 grams, which can be considered unreal keeping in mind its abilities. The set includes a remote controller, with which it will be even more convenient to set up your scope.
Conclusion
On the hunting, all your equipment should be rubberized, with closed metal elements so as not to create unnecessary sounds. To attract a coyote you need a decoy. You can use it only 15 minutes after you have chosen your location and lie/sit/stand motionless. Remember, any movement, rustle or sound will immediately give you away. If you plan to skin a coyote while hunting, take a sharp knife with you. Skinning should be done as quickly as possible.
In most states, hunting such animals is only allowed with a 22 caliber rifle. Therefore, look through the laws of your state well before hunting. We believe that our article helped you find the best scope for coyote hunting. If you are a newbie, we recommend starting with something simpler, but if you have a big hunting experience, do not deprive yourself of the pleasure of hunting well.