Attempted daylight robbery of Post Office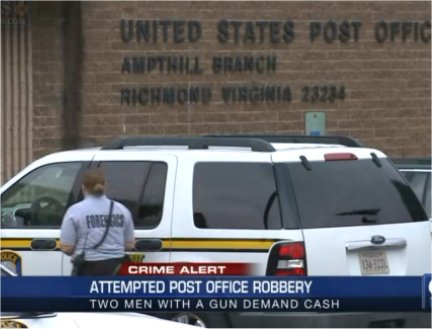 CHESTERFIELD, Va. – In broad daylight, with customers inside, two men attempted to rob a post office.
The crime happened around 4 p.m. Tuesday, at the Ampthill Branch in Chesterfield, off Meadowdale.

The U.S postal inspector said the men had a semi-automatic weapon when they demanded cash from clerks inside.

Witness said that men appeared to have black paint on their face and were seen driving away in a dark green SUV or large pick-up truck.
Wait, aren't Post Offices supposed to be Gun Free Zones? Then how come the bad guys were able to rob the place in broad daylight with gun?? That isn't how this is supposed to work right?
Wrong. That is exactly how Gun Free Zones  work. There was absolutely ZERO threat to the robbers who attacked the Post Office with guns because they knew they were going to be the only ones in the entire place with firearms.
When a bad guy with a gun knows all of his potential victims are disarmed, it's easier than taking candy from a baby.
The government can pass all the laws they want about where guns are legal and were they are illegal, and all they are accomplishing is the illusion of safety while the risk of something bad happening increases.
If firearms were allowed at the Post Office there is a good chance a patron or an employee would have been armed and been able to thwart the robbery.