Wanted Suspect Shot By Homeowner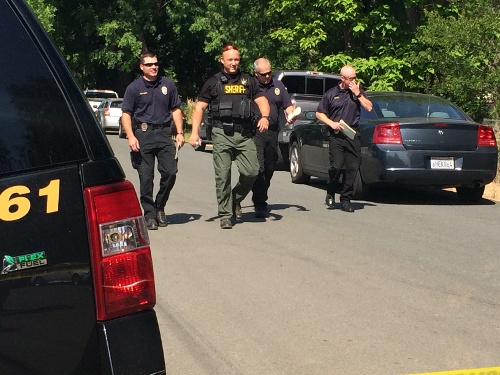 Pursuing deputies spotted Dillon Carmelo running through backyards and fields. He continued to refuse officers' commands to stop.

Carmelo continued to act as if he was reaching for a handgun and at times would point his cell phone at deputies as if it was a handgun.

During the foot pursuit the Shasta County Sheriff's Office had placed out a call to local residences in the area advising residents that officers were in foot pursuit with Dillon Carmelo and he was considered armed and dangerous and on parole.

Jennifer Doolittle received the reverse 911 call, and had armed herself with a handgun. She went out her back door to retrieve her dogs to lock them inside when she saw Dillon Carmelo jumping over her fence.

Doolittle told deputies he advanced on her and again acted as if he was reaching for a handgun. She said she feared for her life fired several shots at Carmelo striking him once in the ankle.

Doolittle was interviewed by detectives and released.
Here is a great example of a legally armed citizen protecting their neighborhood and assisting police as needed.
Our hero here, Jennifer Doolitle, received the reverse 911 call about a dangerous man on the loose.
She grabbed her gun, and went outside to bring in her dogs to hunker down until the threat was gone.
When she saw the suspect jump into her yard and threaten her, she defended herself and put one in the bad guy.
Thanks to this armed citizen the police were finally able to catch this elusive maniac and put him back in custody where he belongs.
There are many crimes stopped every single day by legally armed Americans that the mainstream media refuses to cover.
This is just another example of good that armed citizens do everyday.